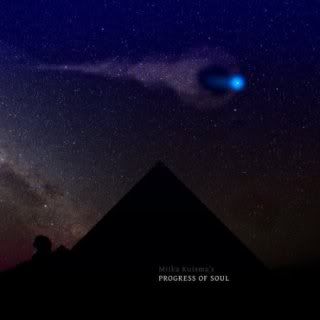 Many of the best albums in history were conceived around one central idea, but not many of them were written as one single piece of music. Miika Kuisma's third album "Progress Of Soul" would have ended up that way if his laptop hadn't started freezing up as soon as he opened the gigantic piece of music he was working on. The end result may be split into fourteen individual tracks but it still plays through as one grand voyage through ambient, the deepest of breaks and pulsating progressive house.

Some purists say the MP3 era means the end of the album format, but to Kuisma it merely means the end of albums that have to fit inside 80 minutes. "Progress Of Soul" goes on for 90, with a slow-burning pace that puts the progression back into progressive house. Kuisma builds the album like a DJ set, slowly but steadily increasing the tempo and the energy over the course of the album. The first four tracks are deep simmering ambient breaks, with the first house beat not entering until "Peaceful Revolution", some twenty three minutes in. Even then, the beats are more understated background throb than frenetic dancefloor rhythm.
This isn't an album for the impatient, but if you're happy to sit back and drink in the details, it's a hugely rewarding listen. This is a record predominantly about the atmospherics, which combine spacey synth washes with tribal percussion and earthy textures throughout, creating a characteristic ancient-future vibe that is reflected in the stunning artwork. This is an album designed for lying back on a tropical beach watching satellites pass overhead in the night sky.
The only small problem with "Progress Of Soul" is that it doesn't keep you on that beach all that way through. After building up the tension for almost an hour of simmering atmospherics and techy percussion, the album finally starts to cut loose on "This Is Where", a rumbling dancefloor monster with an enormous swaggering bassline and spine-tingling vocal chants. It's followed by "Green Lane", another storming club cut, and it seems as though the album has entered fifth gear. However, after these two tracks the energy drops right out again, taking us back to the start. In a 90 minute album there's plenty of room for a proper freakout, yet it never really arrives. In the end it isn't quite lush mood piece and isn't quite dancefloor journey.
It's a shame, because it holds this album back from top-tier greatness. It's still a solid album – there are plenty of stand-out tracks, from the beautiful "Orbiter" to the slamming "This Is Where" – but they don't quite come together as you'd hope from an album conceived as one piece of music. "Progress Of Soul" comes recommended, especially as it captures the spirit of classic prog house and deep trance expeditions in a way rarely heard these days, but it's one of those albums you know could have been even better.
Tracklist:
01.  After The Fade
02. Returning Home
03. Sunset
04. Way To The Other Side (TimeGate Theme)
05. Peaceful Revolution
06. Entheos
07. Orbiter
08. Global Confusion
09. Singularity
10. Collide
11. This Is Where
12. Green Lane
13. Abyss
14. End Of History
Genre: Progressive House, Breaks
Out: Now
Rating: 8/10
Incoming search terms for the article:
Miika Kuisma progression of soul